Products classification
UNDER CATEGORIES 
UNDER PRODUCER 
EVOLVEO XXtremeCord, HDMI 2.0 cable, 20 metres, support for UltraHD 4K2K/HDR
Recycle fee /
0,04 

(VAT: 21%) 
Status /
Sale out
| | |
| --- | --- |
| Your price exc. VAT | 51,78 € |
| Your price inc. VAT | 62,70 € |
| Quantity | |
HDMI 2.0, support for 4K2K@50/60Hz (2160p) UltraHD resolution, support for HDR, High Speed up to 18Gbps, 24K gold-plated connectors, Triple shielding, Ethernet and 3D support for all multimedia devices
Warranty type: 
Authhorized service partner for all products Evolveo
Description: 
Dear Customer, for service EVOLVEO products visit the support page: http://www.evolveo.eu/en/support. Thank you.
Extreme Quality for Extremely Audiovisual Experience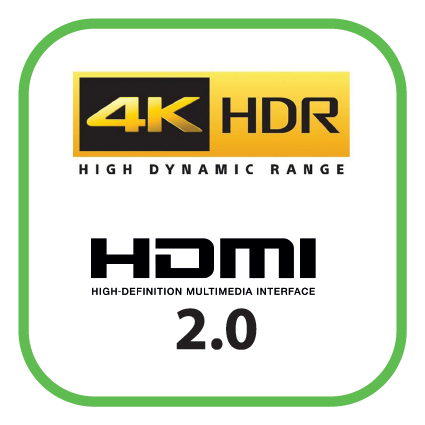 Certified cable according to HDMI 2.0 specifications

EVOLVEO XXtremeCord suitable for all new generation multimedia devices such as PlayStation, Xbox, Blu-Ray, High-end PCs, 4K TVs, DVB-T / DVB-T2 receivers / recorders or projectors.


Specification:

• Best suitable for video signal transmission up to 4K x 2K and 1080p FullHD resolution
• Support for 21:9 wide-screen aspect ratio
• High Dynamic Range (HDR)
• Exclusive HDMI cable, support for 2.0 version
• Male/male connectors, 20 meters long
• Transfer of digital audio and video signals at speeds of up to 18Gbps
• Support for up to 32 audio channels
• Support for up to 1536 kHz audio sampling frequency for highest audio fidelity
• certified by HDMI associations
• AWG 28 premium value
• Triple shielding enhances protection against electromagnetic and radio interference (EMI+RFI)
• Connectors are gold-plated with 24-carat gold to ensure optimal connection and maximum signal transmission
• Conductor is made of high-purity copper free of oxygen additives for the highest conductivity and reliability
• Reinforced nylon braid for high abrasion resistance
• HDMI Ethernet Channel: support for up to 100 Mbps inter-connection between two HDMI-connected devices
• Reverse audio channel: transfer of audio signal from TV tuner back to the external amplifier/home cinema
• Support for 3D protocols for 3D games and 3D home cinema applications
• 4K x 2K resolution support: 3840×2160p at 24Hz/25Hz/30Hz, 4096×2160p at 24Hz, 4K@50/60Hz (2160p)
• Temperature resistance from -25 to +80 °C
• Complies with the European RoHS standard


Product website: