Products classification
UNDER CATEGORIES 
UNDER PRODUCER 
EVOLVEO StrongVision A, fotopasca/časozberná kamera
Recycle fee /
0,33 

(VAT: 21%) 
Status /
Sale
| | |
| --- | --- |
| Your price exc. VAT | 64,51 € |
| Your price inc. VAT | 78,45 € |
| Quantity | |
Camera trap, timelapse camera, night photo and video, 20 Mpix photography, Full HD video, 3×PIR sensor 120°, 2,4"" display, microSD support, 36 IR LED 940nm - invisible spectrum, 8x AA battery, IP 65
Code 
 
 
Article name 

Part No.

 

Producer 
 
Your
price
EU

 

 

 

 

Your price
inc. VAT

 

 

 

 

 

 

 

 

 

EVOLVEO

 
6,16

 

 

 

 

7,49

 

 

 

 

 

 

 

 

EVOLVEO

 
22,36
22,36

 

 

 

 

27,05

 

 

 

 

 

 

 

 

EVOLVEO

 
14,51
14,51

 

 

 

 

17,67

 

 

 

 
Warranty type: 
Authhorized service partner for all products Evolveo
Description: 
Dear Customer, for service EVOLVEO products visit the support page: http://www.evolveo.eu/en/support. Thank you.
Camera trap, timelapse camera


This compact, modern camera lets you take photos or videos with sound in all the places where you can't use a conventional camera system. You can easily watch the movement around your home, summer house, garden house, business, warehouse, construction site or just watch wildlife in distant locations. You can set up the camera easily and quickly with the help of the Czech menu on your display. Recording on the SD card starts when motion is detected in front of the camera or according to the shooting time interval.


Advantages of the EVOLVEO outdoor camera

High-quality IP65 waterproof design, quick camera setup with a Czech menu on the display, easy installation to the chosen place of use, the possibility to move the camera elsewhere anytime, long-life battery or charging via an external power supply.



20Mpix photography and fullHD video

The camera can record photos in up to 20mpix resolution and video in 1080p/30fps resolution, all in both day and night mode. In the photo mode, the camera captures the photo in record time after the motion detection.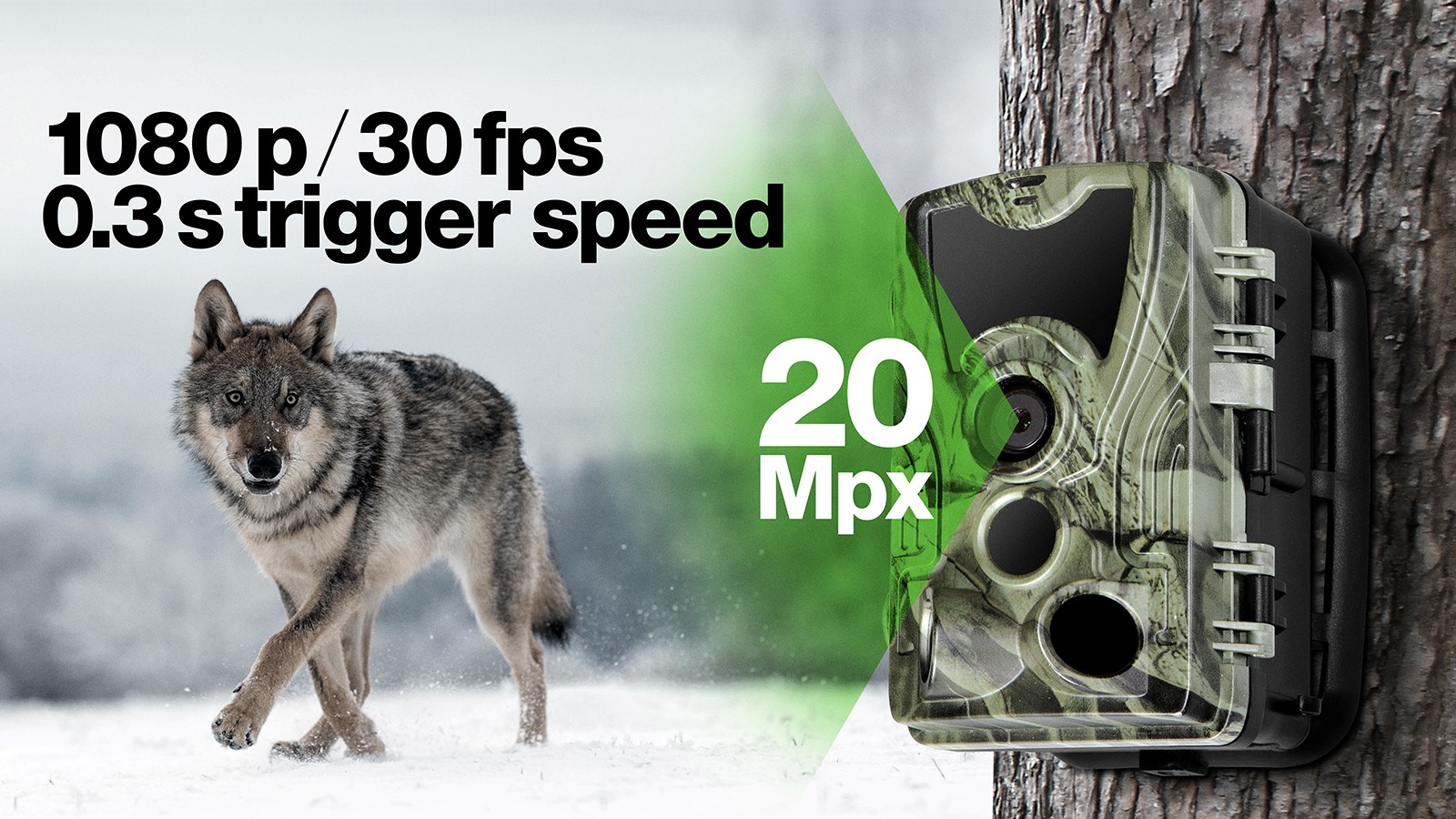 Large, 2.4" colour LCD display

For easy viewing of the taken photos in the largest size possible and easy setting of all parameters


Timelapse camera

The time-lapse mode allows you to easily record, for example, a construction project. Just set the time interval and the camera will take a picture every 30, 60 or 240 minutes and save it on the card.


Accessories

Thanks to accessories, you can not only protect your camera but also extend the battery life up to double.




The camera can be equipped with suitable accessories such as a solar panel to extend the operating time up to double!
•Solar panel

To protect your photo trap from vandals or external influences, you can buy a lockable protective metal box.
•Metal box


High-quality night photo and video and 120° motion detection

For the purposes of taking photos, there are 36 sensitive infra-red illuminating diodes with a 940nm wavelength, which is invisible to human and animal eye. Motion sensing takes place in a wide field of vision of 120° using 3 PIR sensors.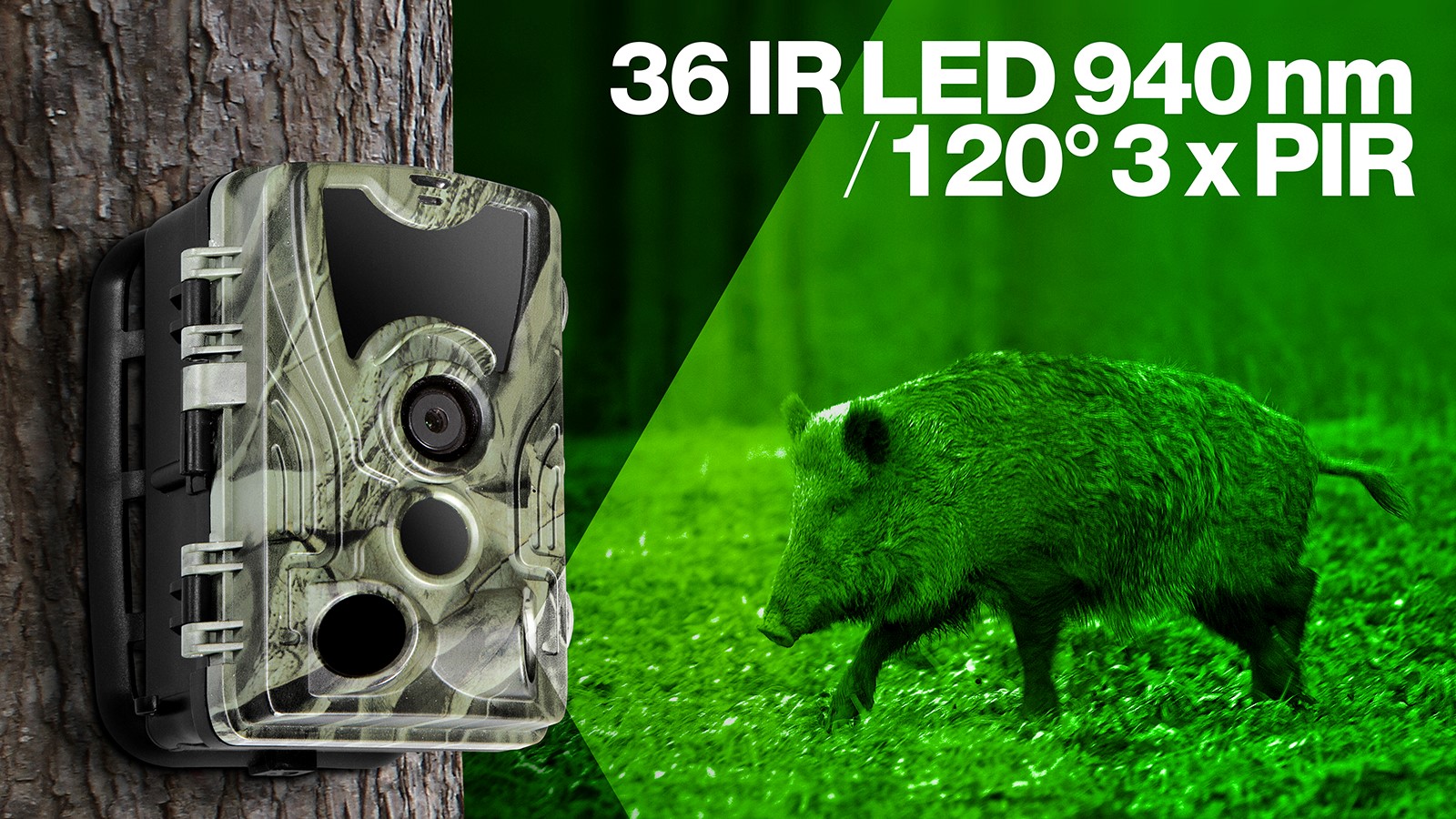 • IP65 waterproof design
• Sets off when motion is detected
• Shutter speed 0.3 second
• Suitable for monitoring the movement around your house, summer house, garden house, business, warehouse, construction site or in the wilderness
• Timelapse camera
• Infra-red night shooting
• 36x Infra-red LED with 940nm invisible spectrum
• IR LED range 25 m
• Support for viewing photos and videos on the camera display
• Save up to 32GB of photos and videos to a microSD card
• Photo resolution: 20 Mpix, 16 Mpix or 12 MPix
• Video resolution with audio: Full HD, HD or VGA
• Colour photos for day shooting, black and white photos for night shooting




• Well-arranged 2.4" display
• Multishot support: 1, 3, 6 or 9 photos
• Interval 1, 5, 10, 30 seconds or minutes
• Video length 10, 30, 60 or 90 seconds
• Each photo contains date, time, temperature, battery status
• Four types of recording: camera, video, camera + video, time lapse
• PIR view angle 120°
• PIR sensor range up to 25 meters
• Possibility of securing with a PIN code
• Possibility of setting the shooting time interval
• Possibility of setting the shooting interval from 1 second to 30 minutes
• Possibility of mounting the camera with a strap or on a tripod
• Display protected with a practical integrated cover
• Operating temperature -20 °C to +70 °C
• Batteries in separate battery box to protect the electronics
• Screw thread for the tripod
• Outputs: AV output for TV, USB, microSD card, power supply connector
• Power supply: 4-8 pcs AA batteries (not included) or external power
• Dimensions 135 x 90 x 76 mm
• Weight 290 g (without batteries)


Technical support

•Helpdesk


Download
• Download the manual HERE
Package Content:

• EVOLVEO StrongVision A
• Fastening strap
• USB cable
• User manual


Product website: