Products classification
UNDER CATEGORIES 
UNDER PRODUCER 
EVOLVEO StrongVision 2GB, GSM/MMS Camera trap/time-lapse camera
Camera trap, 2G MMS/email,20 Mpix photo, time-lapse camera, night photo and video, Full HD video, 3×PIR sensor 120°, 2,4" display, microSD support, 36 IR LED 940nm - invisible spectrum, 8x AA batteries, IP 65, 8GB SD
Code 
 
 
Article name 

Part No.

 

Producer 
 
Your
price
EU

 

 

 

 

Your price
inc. VAT

 

 

 

 

 

 

 

 

 

EVOLVEO

 
6,44

 

 

 

 

7,83

 

 

 

 

 

 

 

 

EVOLVEO

 
74,24
74,24

 

 

 

 

90,25

 

 

 

 

 

 

 

 

EVOLVEO

 
2,34

 

 

 

 

2,83

 

 

 

 

 

 

 

 

EVOLVEO

 
4,03

 

 

 

 

4,92

 

 

 

 

 

 

 

 

EVOLVEO

 
30,19
30,17

 

 

 

 

36,62

 

 

 

 

 

 

 

 

EVOLVEO

 
23,38
23,38

 

 

 

 

28,29

 

 

 

 

 

 

 

 

EVOLVEO

 
30,19
18,09

 

 

 

 

22,00

 

 

 

 

 

 

 

 

KINGSTON

 
6,75

 

 

 

 

10,56

 

 

 

 

 

 

 

 

EVOLVEO

 
4,71

 

 

 

 

5,70

 

 

 

 
Code 
 
 
Article name 

Part No.

 

Producer 
 
Your
price
EU

 

 

 

 

Your price
inc. VAT

 

 

 

 

 

 

 

 

 

EVOLVEO

 
6,78

 

 

 

 

8,37

 

 

 

 

 

 

 

 

EVOLVEO

 
1,02

 

 

 

 

1,23

 

 

 

 

 

 

 

 

EVOLVEO

 
1,02

 

 

 

 

1,23

 

 

 

 

 

 

 

 

EVOLVEO

 
1,02

 

 

 

 

1,23

 

 

 

 

 

 

 

 

EVOLVEO

 
1,02

 

 

 

 

1,40

 

 

 

 
Code 
 
 
Article name 

Part No.

 

Producer 
 
Your
price
EU

 

 

 

 

Your price
inc. VAT

 

 

 

 

 

 

 

 

 

EVOLVEO

 
74,24

 

 

 

 

90,25

 

 

 

 
Warranty type: 
Authhorized service partner for all products Evolveo
Description: 
Dear Customer, for service EVOLVEO products visit the support page: http://www.evolveo.eu/en/support. Thank you.
Camera trap/time-lapse camera with GSM/MMS + 8GB SD card


This compact and modern camera allows you to take photos or record a video with sound anywhere you cannot use a classic camera system. The photos will be sent to your mobile phone as MMS, or to your email. You can easily monitor the movement around your house, cottage, garden house, business, warehouse, construction site or watch wildlife in remote locations. You can easily and quickly set up the camera thanks to the Czech menu on the display. When something obstructs the field of view of the camera, you will receive an MMS or an email with the captured image. The recording on the SD card starts when motion is detected in front of the camera or according to the shooting time interval.


Advantages of the EVOLVEO outdoor camera

High-quality IP65 waterproof design, sending an MMS/email in case of a detected activity, quick camera setup thanks to the Czech menu on the display, easy installation to the place of use, the possibility to move the camera elsewhere at any time, long battery life or the possibility of charging via an external power supply.


Evolveo Mail server

For the 2GB model we have prepared an Evolveo Mail service, so you can easily send the captured images. In the EVOLVEO config application, all you have to do is enter the email address to which the captured photo will be sent, and that's it, no passwords or usernames. Everything takes place on secure communication between the photo trap and our Czech mail server.


20Mpix photography and fullHD video

The camera can take photos in up to 20mpix resolution and record a video in 1080p/30fps resolution, all in both day and night mode. In the photo mode, the camera can take the photo in record time after the motion is detected.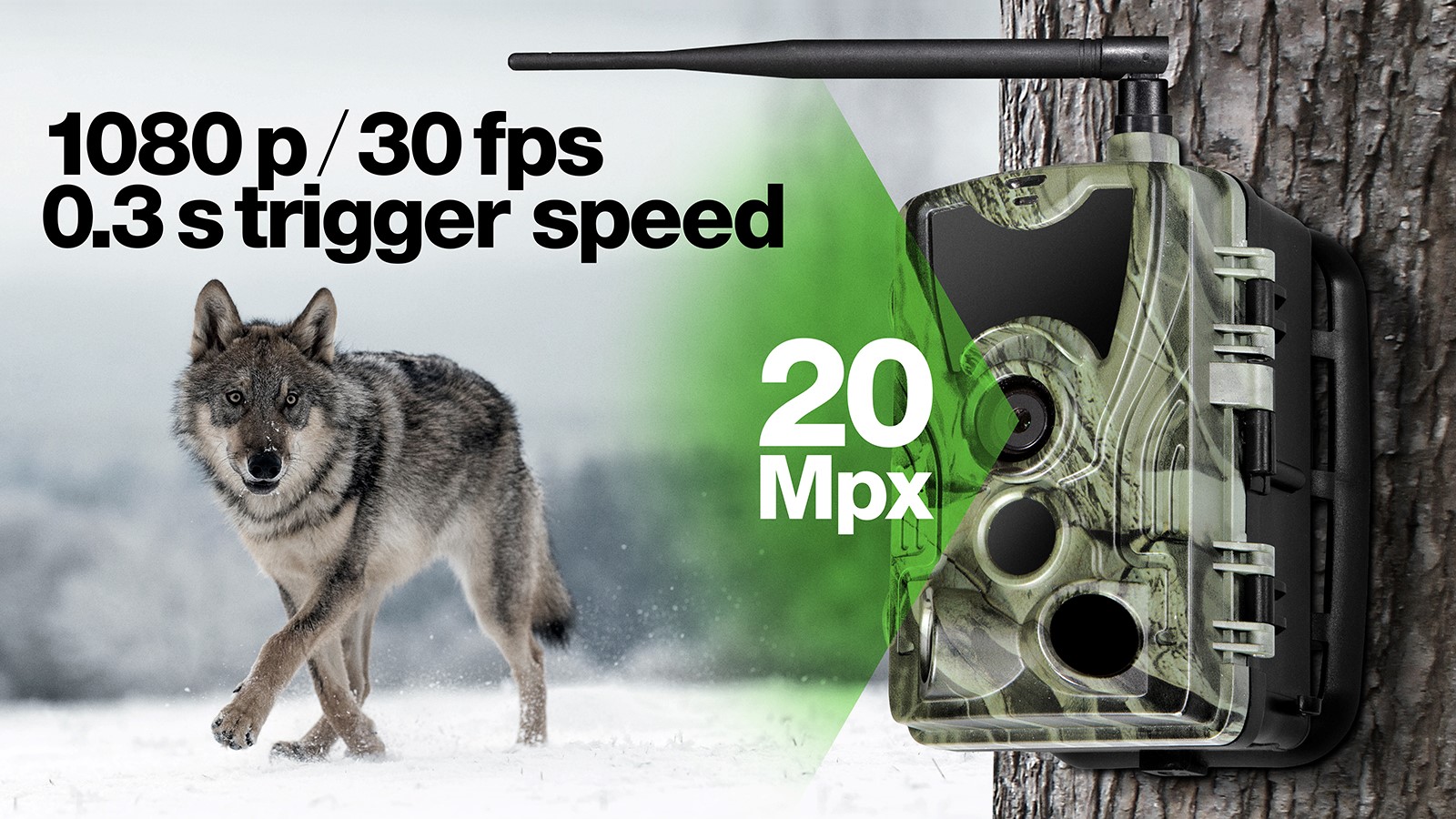 Time-lapse camera

The time-lapse mode allows you to easily record a construction project, for example. Just set the time interval and the camera will take a picture every 30, 60 or 240 minutes and save it on the card.


Accessories

Thanks to the accessories, you can not only protect your camera, but also double the battery life.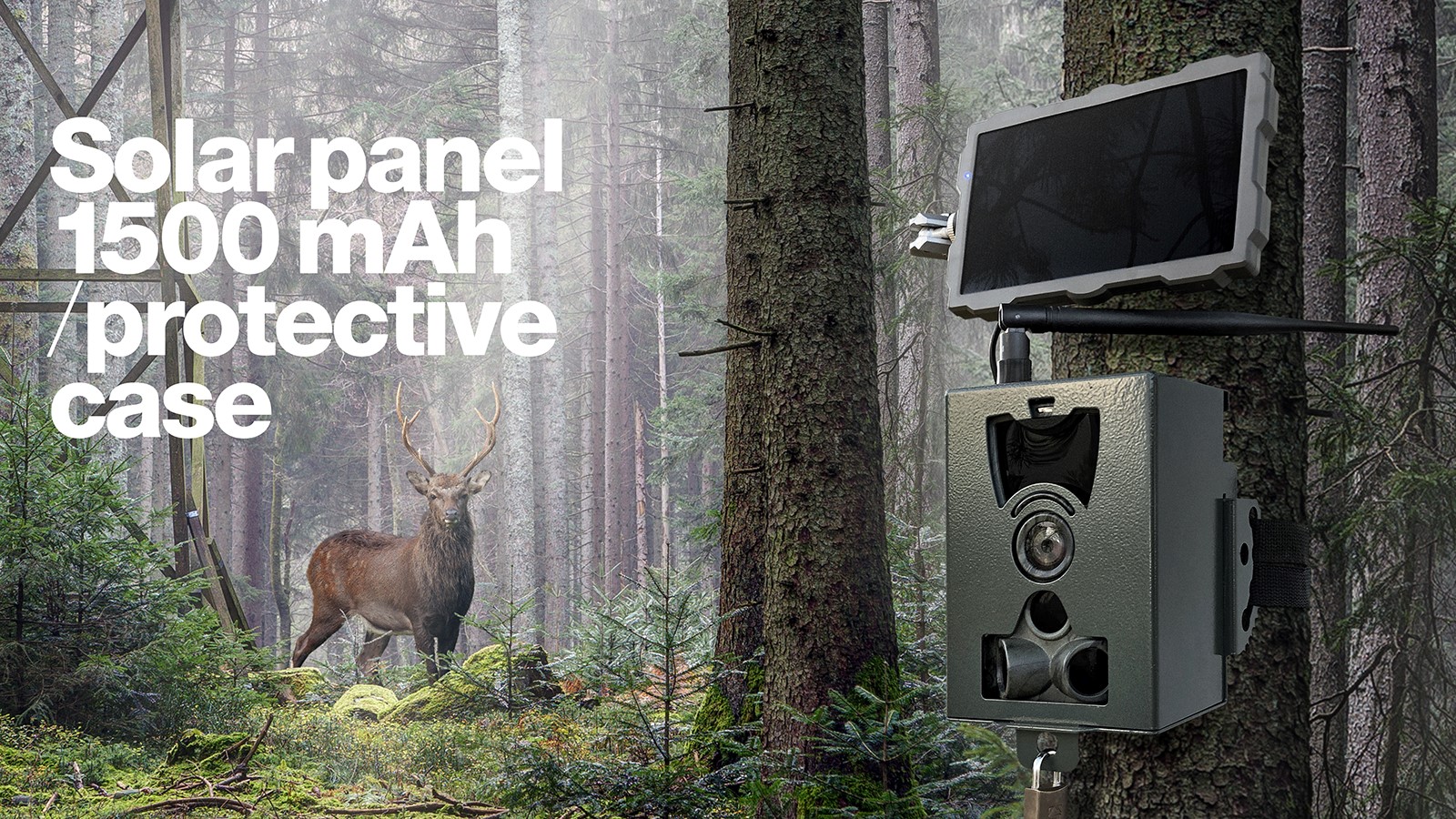 The camera can be equipped with suitable accessories, such as a solar panel to double its operating time!
•Solar panel

You can buy a lockable protective metal box to protect your photo trap from vandals or external influences.
•Metal box


High-quality night photo and video and 120° motion detection

Video can be recorded in the highest Full HD quality, the night recording or photography uses 36 sensitive IR illuminating diodes with a wavelength of 940 nm invisible to human and animal eye. Motion sensing takes place in a wide field of view of 120° using 3 PIR sensors.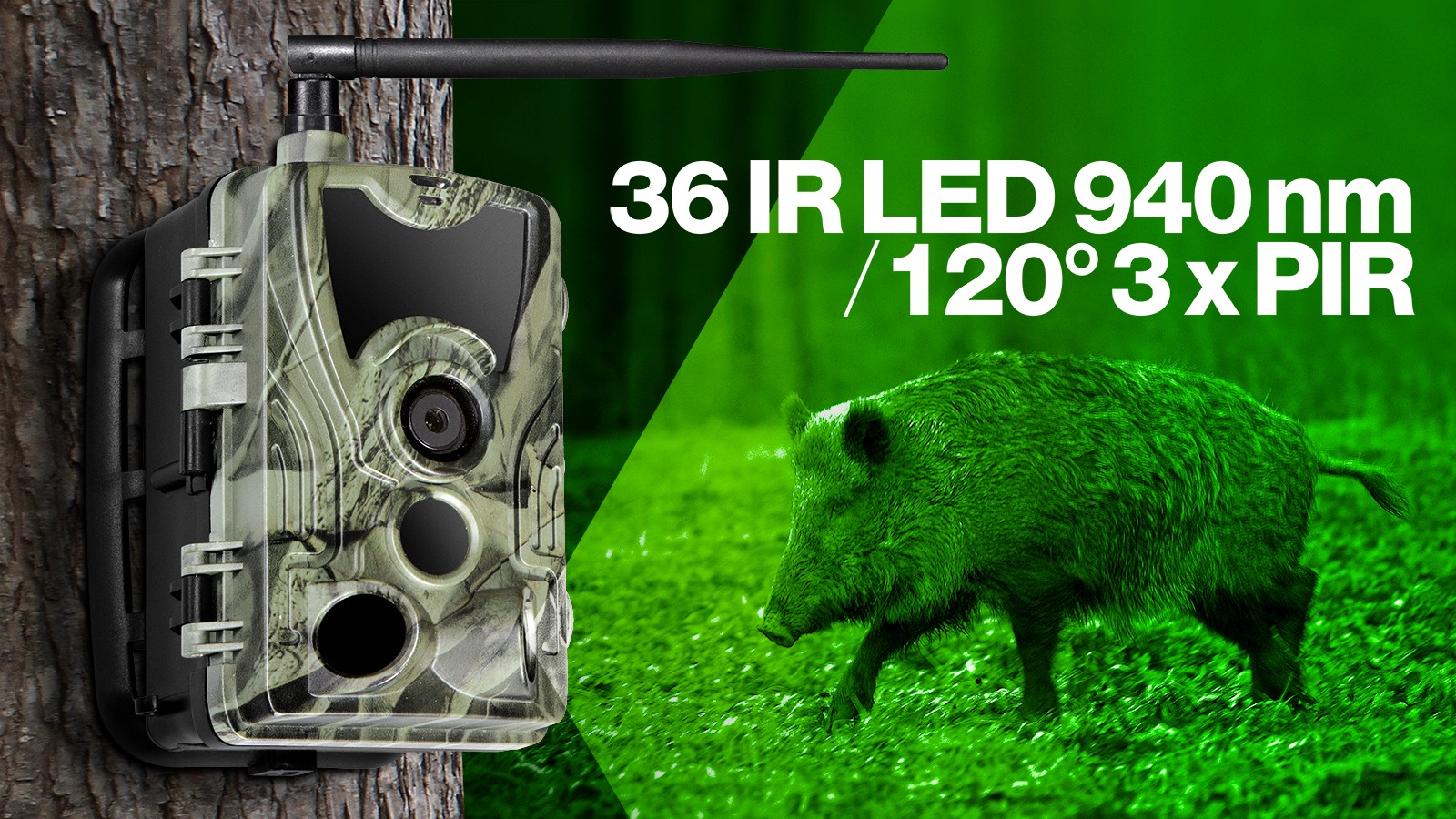 • Sending MMS/emails to several numbers or addresses at once
• 2G GSM networks support
• TLS 1.0/1.1 support for SMTP
• IP65 waterproof design
• Photo resolution: 20 Mpix, 16 Mpix or 12 MPix
• 120° camera lens
• 120° viewing angle
• triggers when motion is detected
• Shutter speed 0.5 seconds
• Suitable for monitoring the movement around your house, cottage, summer house, business, warehouse, construction site or in the wilderness
• Time-lapse camera
• IR night shooting
• 36x IR LEDs with 940nm, invisible spectrum
• IR LED range: 25 m
• Browsing the photos and watching the videos on the camera screen is supported
• Storing the photos and videos on the microSD card, up to 32 GB
• Video with sound resolution: Full HD, HD or VGA
• Colour photos for daytime shooting, black and white photos for night-time shooting




• Well-arranged 2.4" display
• Multishot support: 1, 3, 6 or 9 photos
• Interval: 1, 5, 10, 30 seconds or minutes
• Video length: 10, 30, 60 or 90 seconds
• Each photo contains date, time, temperature, battery status
• Four types of recording: camera, video, camera + video, time-lapse
• 120° field of view
• Range of the PIR sensor up to 25 meters
• Possibility of securing with a PIN code
• Possibility of setting the time interval of the shooting
• Possibility of setting the shooting time interval from 1 second to 30 minutes
• Possibility of mounting the camera with a strap or on a stand
• Protection of the display with a practical integrated cover
• Operating temperature: -20 °C to +70 °C
• Batteries in a separated battery box to protect the electronics
• Screw thread for the tripod
• Outputs: AV output for TV, USB, microSD card, power supply connector
• Power supply: 4-8 pcs of AA batteries (not included) or external power supply
• Dimensions: 135 x 90 x 76 mm
• Weight: 290 g (without batteries)



Software for MMS/email setting
• MMS Config available for download HERE
Package content

• EVOLVEO StrongVision 2GB
• Antenna
• 8GB SD card
• SIM card removing tool
• Fastening strap
• USB cable
• User manual


Product website:
| Name | Value |
| --- | --- |
| Afterglow:  | <25m |
| Battery:  | 8xAA |
| Cloud:  | No |
| Data transfer:  | 2G/GSM |
| External power supply:  | 12V |
| MMS/SMTP support:  | Yes |
| Motion sensor:  | PIR |
| Night IR illumination:  | 940nm |
| Photo resolution:  | 20mpx |
| Protective box:  | Yes |
| Rope lock:  | Yes (when used with box) |
| SD card size:  | 64GB |
| SD card type:  | SD |
| Sensor resolution:  | 8mpx |
| Video resolution:  | FHD |
| Viewing angle:  | 120° |