Products classification
UNDER CATEGORIES 
UNDER PRODUCER 
EVOLVEO StrongPhone Z4, waterproof rugged phone
2.8" IPS display, IP68, SOS button, power bank, flashlight, FM tuner, Bluetooth, Dual Sim, microSDHC card support, charging stand, 2 500mAh battery
Code 
 
 
Article name 

Part No.

 

Producer 
 
Your
price
EU

 

 

 

 

Your price
inc. VAT

 

 

 

 

 

 

 

 

 

KINGSTON

 
6,73

 

 

 

 

10,55

 

 

 

 
Code 
 
 
Article name 

Part No.

 

Producer 
 
Your
price
EU

 

 

 

 

Your price
inc. VAT

 

 

 

 

 

 

 

 

 

EVOLVEO

 
13,51
13,50

 

 

 

 

16,41

 

 

 

 
Warranty type: 
Authhorized service partner for all products Evolveo
Description: 
Dear Customer, for service EVOLVEO products visit the support page: http://www.evolveo.eu/en/support. Thank you.
Rugged phone with 2.8" IPS display
The rugged StrongPhone Z4 is the best choice for everyone who expect something more from their phone. Thanks to the rugged body with IP68 certification, large and easy-to-read 2.8" IPS LCD display, power bank function, SOS button or large 2 500mAh battery the phone is a universal solution when working in a workshop, on a construction site, in rough terrain, in freezing or hot and humid environments. The phone can handle water, mud, snow, dust and rough handling.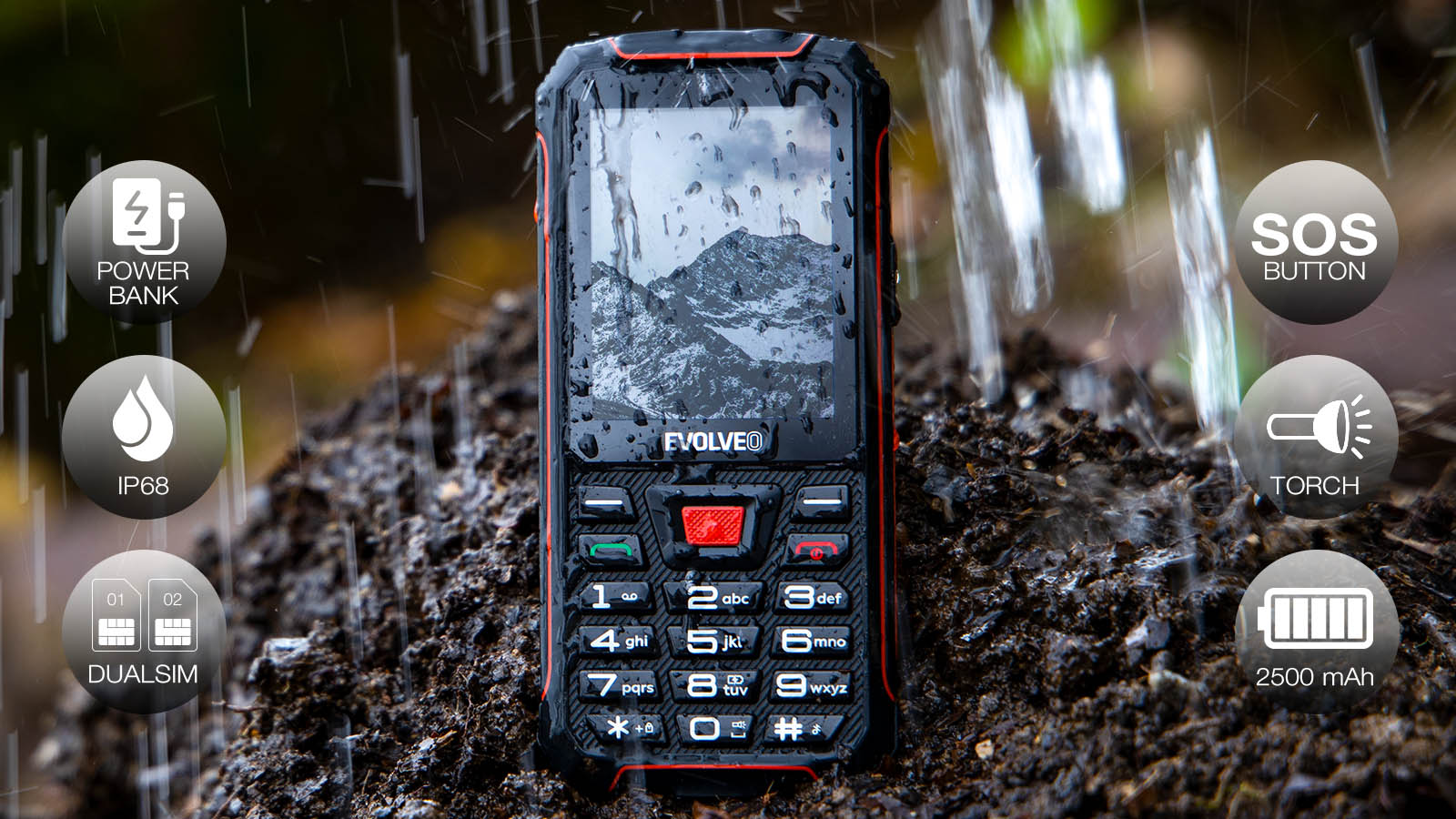 Easy-to-read 2.8" display
One of the main advantages of the StrongPhone Z4 is its large 2.8" display with IPS technology with enhanced scratch and pressure resistance. The IPS technology ensures realistic colour rendering, wide viewing angles and low energy consumption. The phone will be therefore easy to use in any conditions.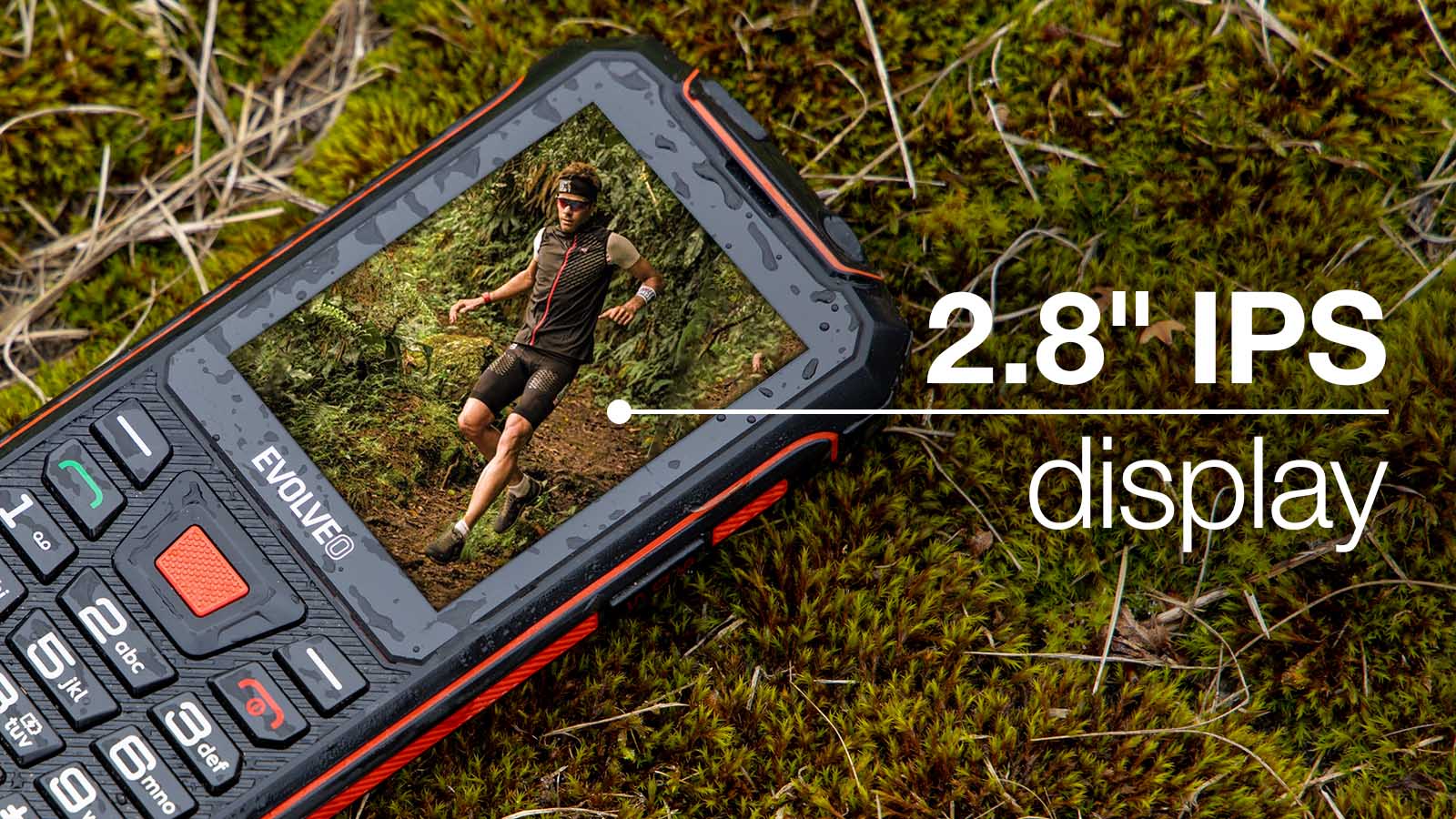 2 500mAh battery with power bank function
The 2 500mAh battery ensures operation of the phone for up to two weeks and can do something more. The rugged StrongPhone Z4 is equipped with a power bank function which allows you to use the battery capacity to charge your other devices.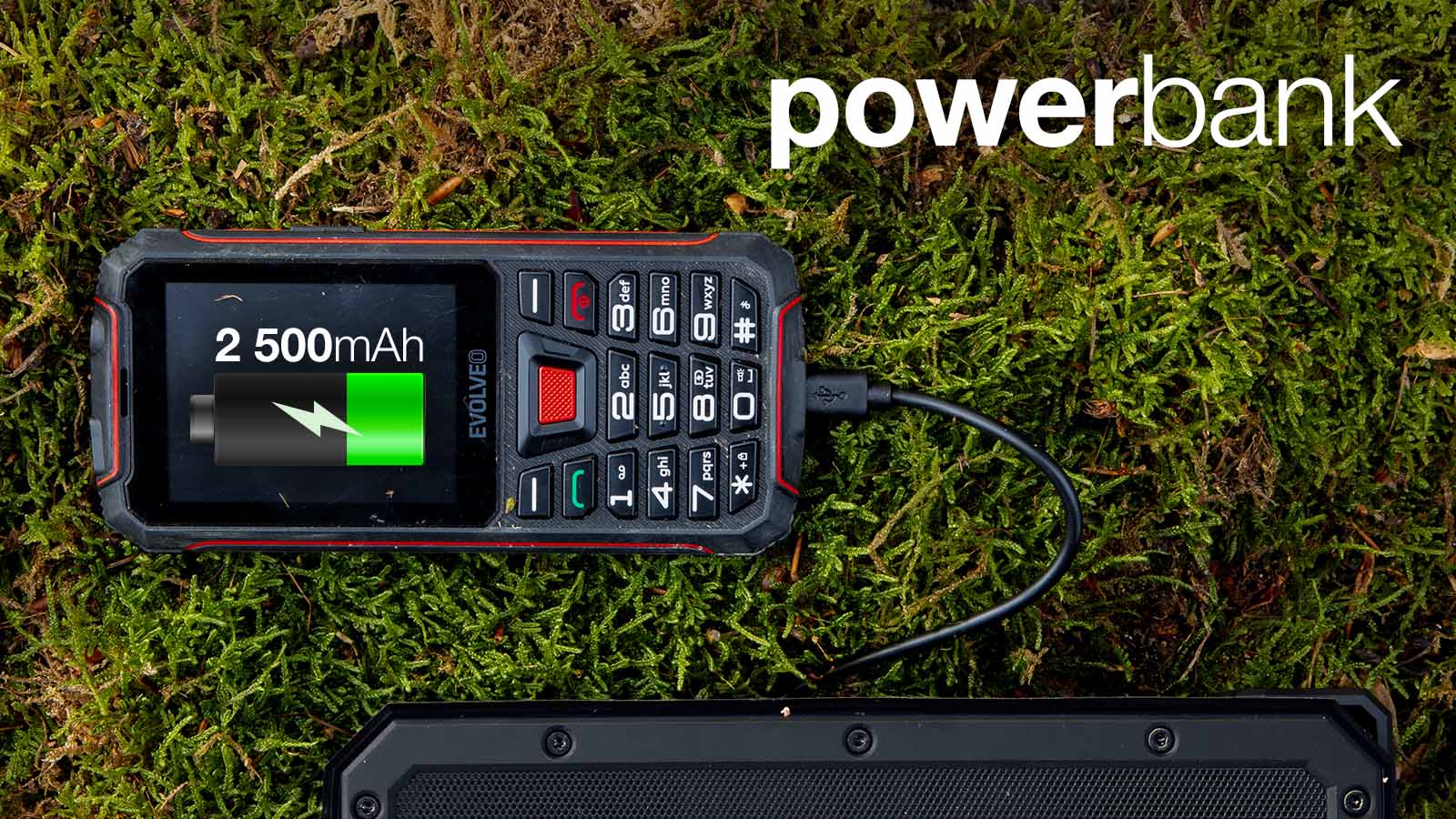 SOS call and SMS emergency message

The StrongPhone Z4 is equipped with an SOS button which can call for help in case of an emergency. When you press the button, the phone automatically starts to dial pre-set numbers and sends an emergency message to them.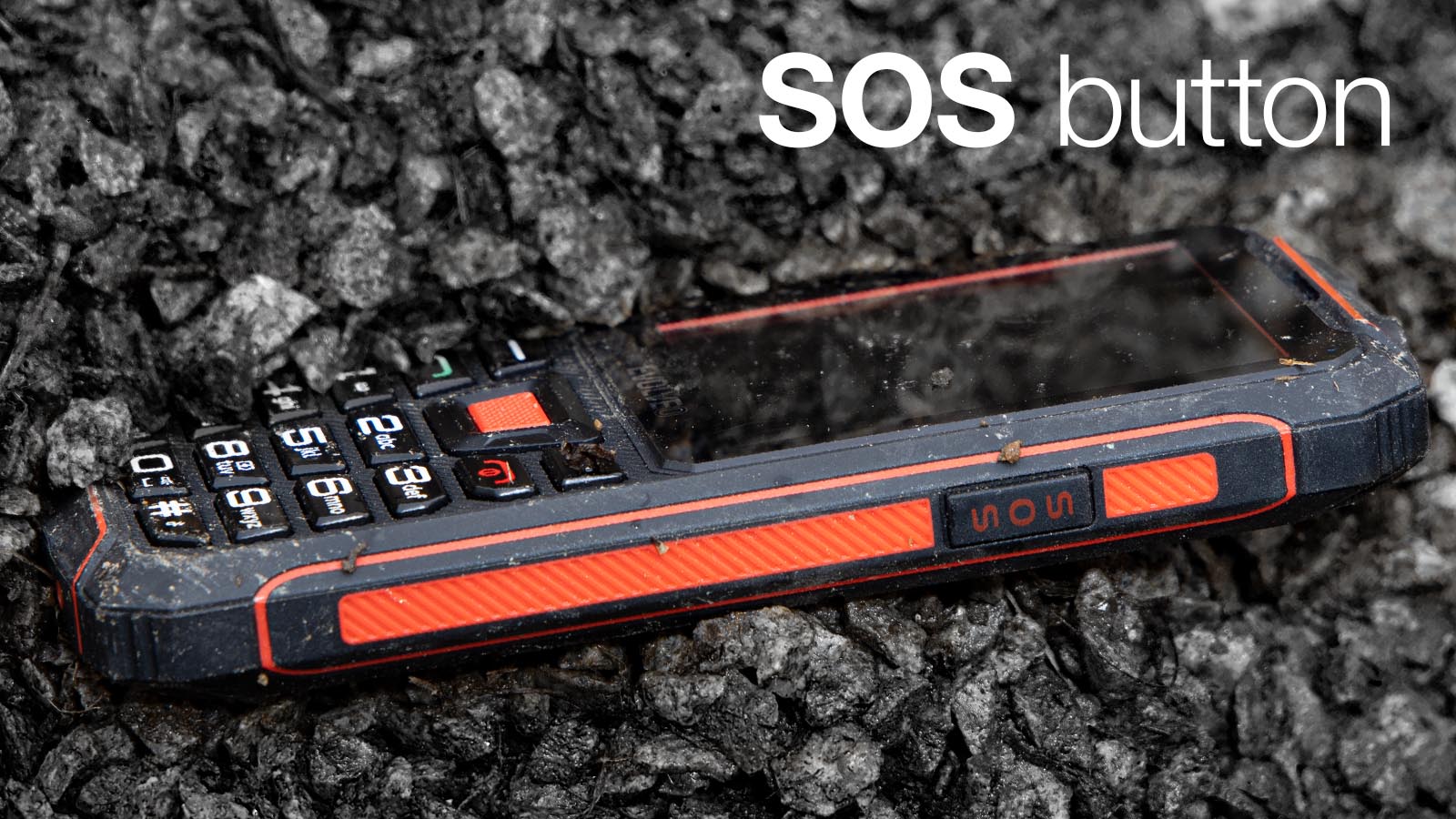 Multimedia features
The rugged phone features a 2.0 Mpx camera, intensive LED flashlight or a built-in FM radio with an integrated antenna and automatic radio station tuning. Other features include e.g. a calendar, alarms or a calculator.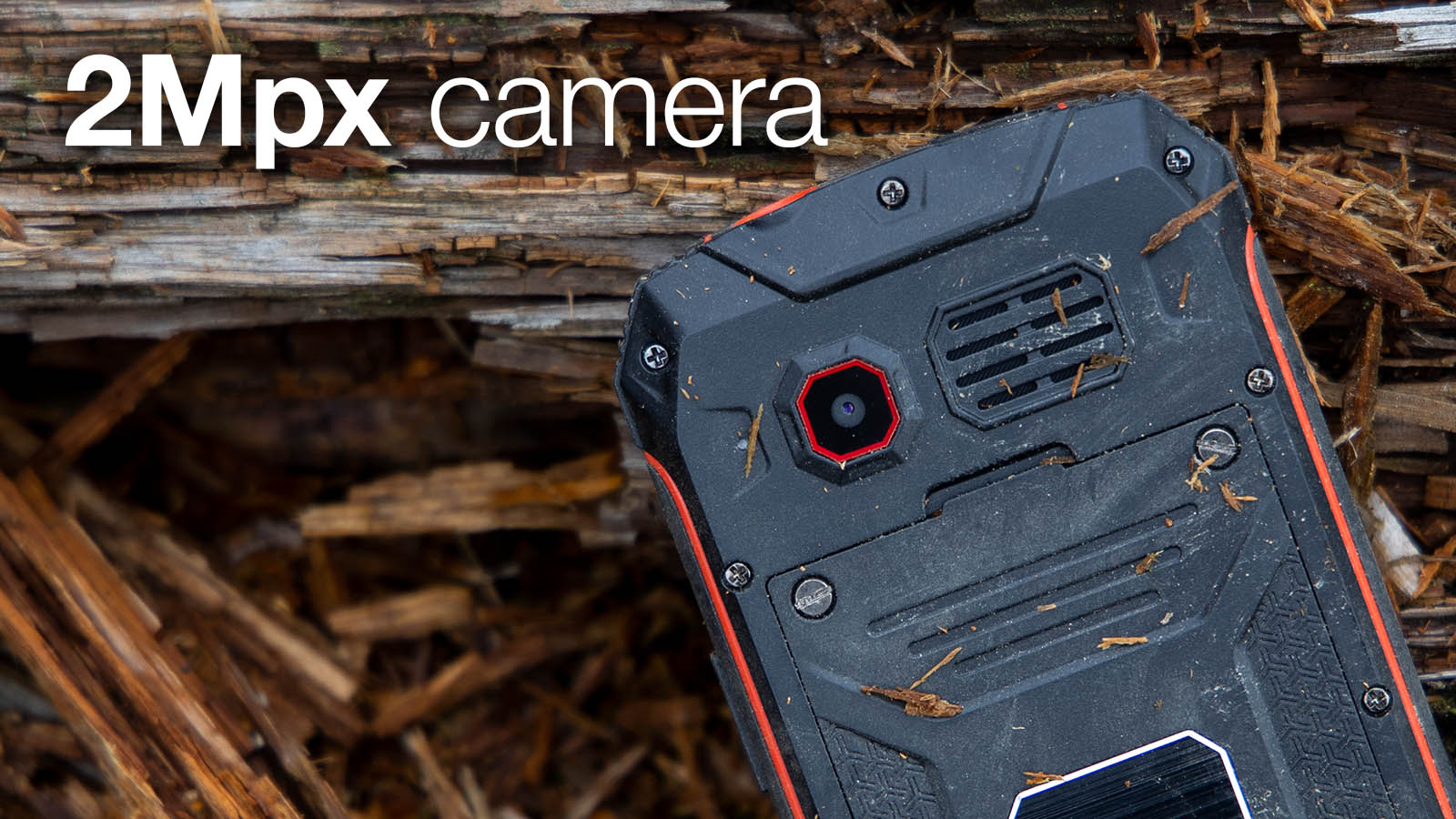 Charging stand
To simplify the charging process, we have added a charging stand to this model to ensure easy charging without the need to connect a USB cable to the phone.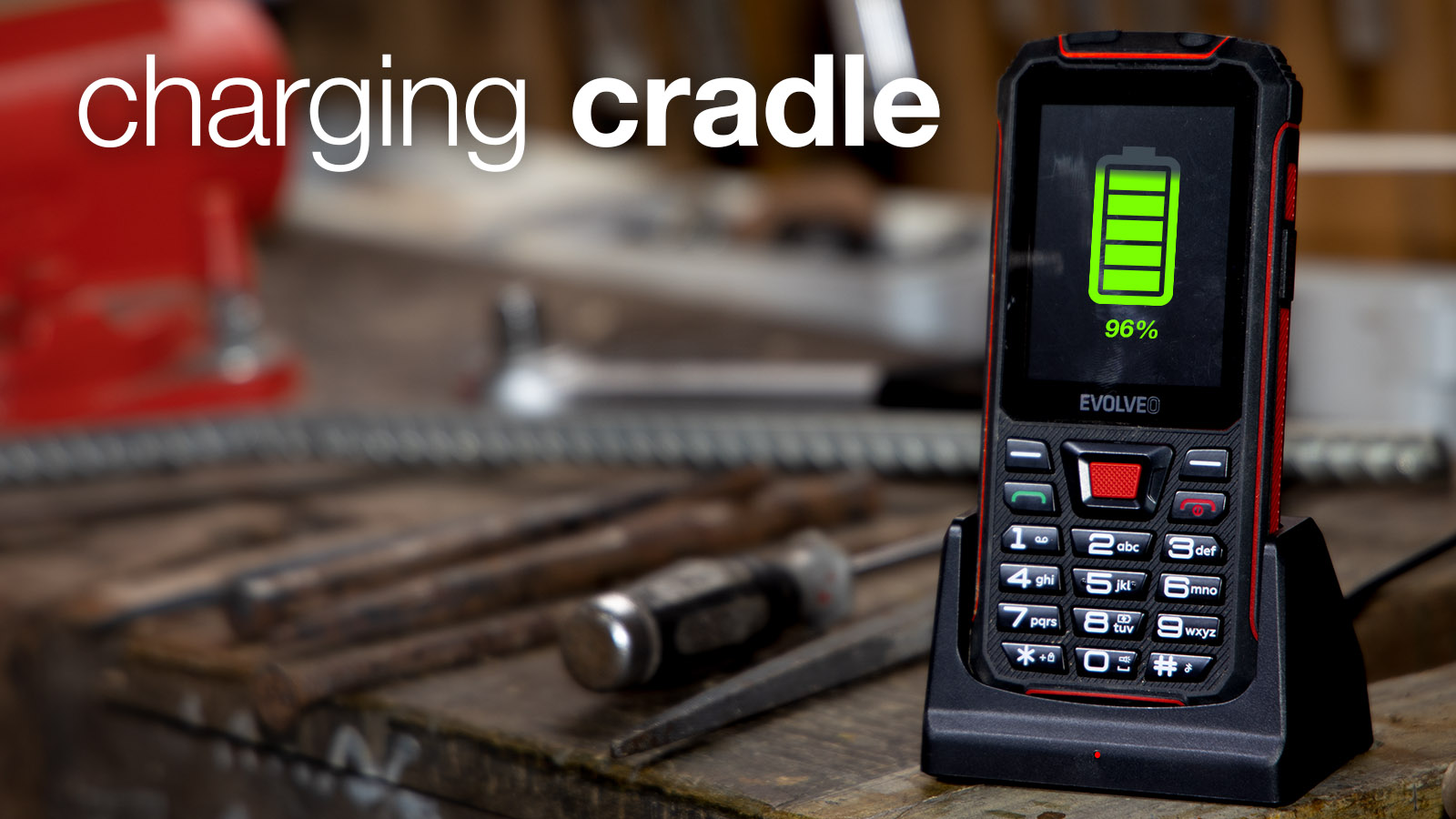 Water-resistant according to the IP68 specification
Water resistance is certified according to the IP68 norm, the phone is dust tight and protected against the effects of immersion in up to 1.2 m of water for 30 minutes.


Large 2.8" IPS display with enhanced scratch and pressure resistance


Power bank function


SOS call and SMS emergency message


Shock and vibration resistant


Water-resistant according to the IP68 specification


Rubber coated rigid surface


High capacity 2 500mAh battery


Charging stand


Dual SIM


GSM 850/900/1800/1900 MHz


2.0 Mpx camera


Bluetooth


SMS/MMS


MicroSDHC card support


FM radio


Calendar


Alarm


Calculator


Image browser


Video recorder


Video player


Audio player


Digital recorder


Polyphonic ringing/vibrations


Hands-free with a built-in microphone


High capacity 2 500mAh battery


Dimensions 143.6 x 64.4 x 16.5 mm


Weight 169 g



Package includes






EVOLVEO StrongPhone Z4


High capacity 2 500mAh battery


Headphones with built-in hands-free


Power charger


Charging stand


Power bank cable


User manual







| Name | Value |
| --- | --- |
| Bluetooth:  | Yes |
| Budík:  | Yes |
| Conectivity:  | USB micro, Jack 3.5 mm |
| Čtečka knih:  | No |
| Design:  | Tlačítkový |
| Digitální záznamník zvuku:  | Yes |
| Doba nabíjení:  | 4,5 h |
| Dotykový displej:  | No |
| Dual SIM:  | Yes |
| Endurance:  | Voděodolný, Vodotěsný |
| FM rádio:  | Yes |
| Fotokontakt:  | No |
| GPS:  | No |
| Hlasitost reprodutkoru:  | 95 dB |
| Hlasitý reproduktor:  | Yes |
| Hmotnost:  | 169 g |
| Hudební přehrávač:  | Yes |
| Chipset:  | MTK6261D |
| Jack konektor (3,5 mm):  | Yes |
| Jazykové verze firmwaru:  | CZ, SK, EN, HU, RO, IT, BG, HR |
| Jazykové verze manuálu:  | CZ, SK, EN, HU, RO, DE, IT, BG, GR, HR, PL, TR |
| Kalendář:  | Yes |
| Kalkulačka:  | Yes |
| Kapacita baterie:  | 2500 mAh |
| Lupa:  | No |
| MMS:  | No |
| Mobile Phones - Type:  | Odolný, Outdoorový, Pracovní |
| Nabíjecí konektor:  | Micro USB |
| Nabíjecí stojánek:  | No |
| Nabíječka:  | Yes |
| Napájení:  | 5 V / 1 A |
| Počet kontaktů:  | 100 |
| Počet SMS:  | 50 |
| Počet uživatelských profilů:  | 5 |
| Podporovaná pásma:  | GSM/GPRS: 850/900/1 800/1 900 MHz |
| Podporované sítě:  | 2G |
| Prohlížeč obrázků:  | Yes |
| RAM:  | 32 MB |
| ROM:  | 32 MB |
| Rozlišení displeje:  | 240 x 320 px |
| Rozlišení fotoparátu:  | 2 Mpx |
| Rozměry:  | 143,6 x 64,4 x 16,5 mm |
| Rychlé kontakty:  | No |
| Seznam úkolů:  | No |
| SIM configuration:  | Dual SIM + paměťová karta |
| SOS senzor pádu:  | No |
| SOS tlačítko:  | Yes |
| Stereo sluchátka s hands-free:  | Yes |
| Stopky:  | No |
| Stupeň krytí IP:  | IP68 |
| Světové hodiny:  | No |
| Svítilna:  | Yes |
| Telefon:  | Yes |
| Typ panelu:  | IPS |
| Typ SD karty:  | Micro SDHC |
| Uživatelský manuál:  | Yes |
| Velikost displeje:  | 2,8 |
| Velikost SIM karty:  | MiniSIM |
| Video přehrávač:  | Yes |
| Výdrž v pohotovostním režimu:  | 15 d |
| Waterproof IP rating:  | IP68 |
| Záznam videa:  | Yes |