Products classification
UNDER CATEGORIES 
UNDER PRODUCER 
EVOLVEO EasyPhone FM, a mobile phone for senior citizens with a charging stand (silver colour)
Recycle fee /
0,10 

(VAT: 21%) 
Status /
Sale
| | |
| --- | --- |
| Your price exc. VAT | 25,09 € |
| Your price inc. VAT | 30,47 € |
| Quantity | |
An elegant design with big keys, 2.3" colour screen that is easy to read, Dual SIM, FM radio with built-in antenna, camera, big keys, SOS button, Bluetooth, microSDHC, flashlight, 1000 mAh battery.
Code 
 
 
Article name 

Part No.

 

Producer 
 
Your
price
EU

 

 

 

 

Your price
inc. VAT

 

 

 

 

 

 

 

 

 

EVOLVEO

 
2,73
3,84

 

 

 

 

4,77

 

 

 

 

 

 

 

 

EVOLVEO

 
2,19
3,07

 

 

 

 

3,84

 

 

 

 

 

 

 

 

EVOLVEO

 
3,65
3,65

 

 

 

 

4,53

 

 

 

 

 

 

 

 

EVOLVEO

 
6,53
6,53

 

 

 

 

8,02

 

 

 

 

 

 

 

 

EVOLVEO

 
4,15
5,80

 

 

 

 

7,09

 

 

 

 
Warranty type: 
Authhorized service partner for all products Evolveo
Description: 
Dear Customer, for service EVOLVEO products visit the support page: http://www.evolveo.eu/en/support. Thank you.
A practical flip mobile phone with a charging stand and a big colour screen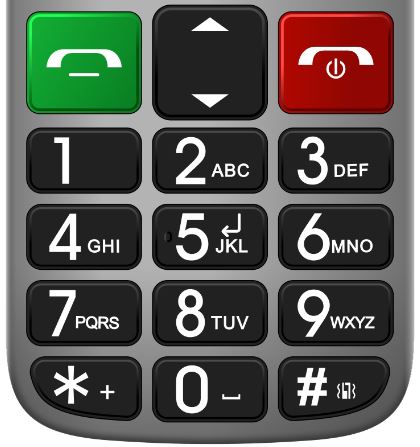 Easy to use and really big keys

The EVOLVEO EasyPhone FM is an easy to use phone with big keyboard keys, keys that are reserved for chosen functions and a big well-arranged screen. Individual keys are separated to simplify writing SMS messages and typing phone numbers. You can preset eight numbers for making phone calls. A strong speaker guarantees that you will not miss any important calls and you will always be available thanks to two SIM cards.

---
Enjoy the built-in radio

The built-in FM radio with automatic station tuning coupled with a powerful speaker makes listening to your favourite station more enjoyable. You do not need to connect your headphones for signal reception as the antenna is built-in the machine. There is a special button reserved for switching on the radio on the side of the phone. You can also listen to the radio on the background and you can write SMS, look at the pictures or add favourite events to integrated calendar when listening to it. The radio´s volume automatically mutes when making or receiving a call and after the call ends, it starts playing again.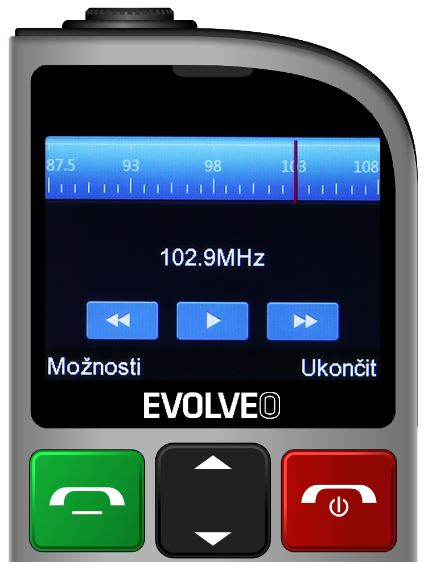 ---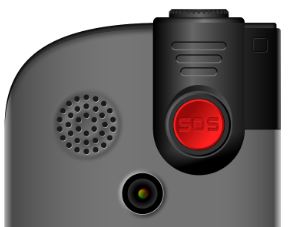 SOS calls and SMS text message

There is a SOS button on the back of the phone. When it is pressed, the phone will automatically start to dial preset numbers and sends emergency messages. You can choose up to five numbers that will be called and sent a message to.

---
rich equipment

Colour easy to read screen, powerful flashlight with a reserved button on the side of the phone, a reserved button for phone unlocking, volume control and switching on the radio. Camera, music player with possibility of playing track saved on the microSDHC card, calendar, alarm clocks, magnifying glass, calculator, answering machine and other practical equipment for easy use.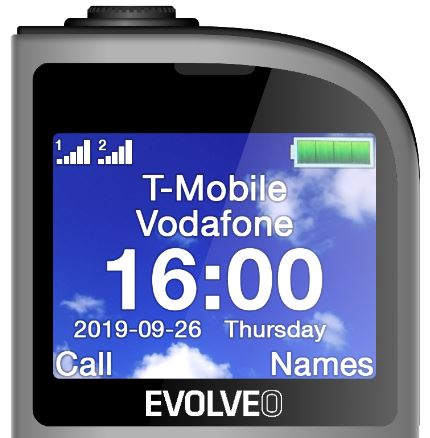 ---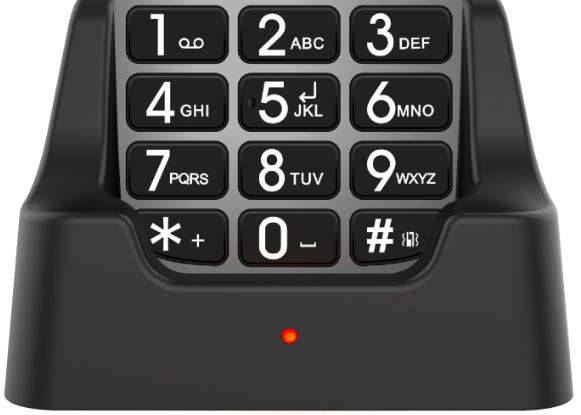 Charging stand

The phone is supplied with a charging stand for easy battery charging. The stand is equipped with a LED indicator that informs you about the charging status.

---
• well-arranged and simple menu
• easy to control
• large 2.3" colour screen
• separated keys for easy use
• FM radio with a built-in antenna
• button reserved for FM radio, flashlight and phone unlocking
• loud speaker for listening to FM radio and ringing
• SOS button on the back of the phone to send a SMS or to dial up to five telephone numbers
• stand with a LED indicator to charge the battery easily
• screen resolution 320 x 240 px
• separated keys on the keypad
• two SIM cards support
• GSM 850/900/1,800/1,900 MHz
• five user profile
• quick access to up to 8 favourite telephone numbers
• vibrations
• a volume control button on the left side of the phone
• 3.5 mm headphone jack
• microSDHC card support
• highly efficient speaker for a loud hands-free
• VGA camera
• Image browser
• music player
• digital recorder
• Calendar
• Alarm
• Bluetooth
• calculator
• magnifying glass
• 1 000 mAh Li-Ion battery
• dimensions 130 x 61 x 16.5 mm
• Weight 105 g (including the battery)
Package content
• EVOLVEO EasyPhone FM mobile phone
• a charging stand
• 230V USB charger
• Stereo headphones with hands-free function
• User manual
Product website:
| Name | Value |
| --- | --- |
| Design:  | Tlačítkový |
| Mobile Phones - Type:  | Pro seniory |